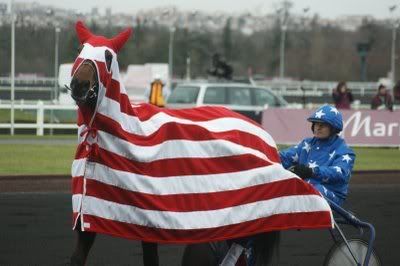 Well, my weekend is over. Yes, I call Wednesday and Thursday MY weekend! Those are the days Jeff is home from work. They are his refresher days…and I am his refresher, as he is mine. So, it's Friday, and my weekend is over.


I've gathered a few items from around the internet and news sites to chat about today. So grab yourself a cuppa tea, coffee, or what blows you boat across the pond…and let's see what you all have to think and say about what I want to discuss today!
I want to start with what everyone seems to be discussing at this point, and perhaps the discussion is old now. It's been a couple of days now since HD put out the news regarding the "New Blacked out Sportster." That's OK…what I have to say, I've said on other blogs and forums, so perhaps you guys have all seen it…perhaps not.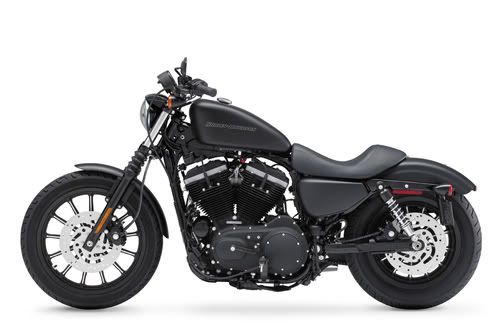 1. Nothing new about a blacked out Sportster. IE the Café Racer of 1978 and 1979. A handsome bike, although we couldn't sell it to save our lives back in 1978 & '79, when I worked at the dealership. It was finally given to me to ride as a demo bike…me and the owner shared the bike. He really liked it, except the complained that it "clunked" hard into gear…duh…that's what Sportsters did back then…this bike was a really fast bike, and I enjoyed it for what it was at the time.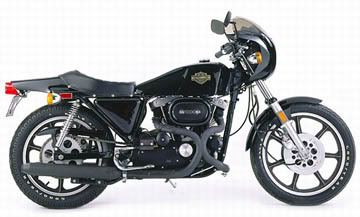 2.I like the big 3.3 gallon tank. Although, I really feel as if that's overkill for this small bike. I'm old fashioned I guess. I like the peanut tanks, I like the tanks that hold 2.3 gallons, it's a Sportster. Although, it does make riding with the big boys…you know, the ones with big twins… one hell of a lot easier. For some reason, the big twins become annoyed at having to stop every 80 miles or so for gas. Funny thing, they don't seem to mind to stop that often for smoke breaks, ass breaks, or piss breaks, but tell em ya need gas for your Sportster, you will sometimes get that feeling they are internally rolling their eyes at you. Well I don't care. I like keeping to tradition as much as I can. It just seems right to me…so I honor the Sportster by keeping her the way she has been for many, many decades before the big boys came to town!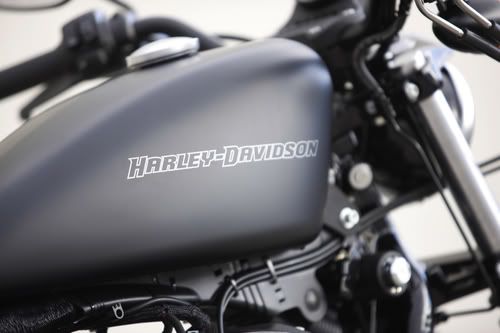 3.What is it with these license tag holders? Why do the designers have to put them on the side of the bike? It looks like a clothes line to me. A place to hang my wet clothing to dry for the day…night…. It's annoying to me to have that thing hanging off the side of the bike like that. I just feel as if the designer who puts it there just don't have any real imagination when it comes to placing that piece of governmental required piece of shit…somewhere on the damn bike… I just feel that it don't belong hanging off the side. I know many of you disagree…but it really does appear to me like an unfinished and hastily attached piece of crap. They have done things such as add bullet type turn signals on this bike…so why do they detract from the streamline by hanging this shit off the side of the bike?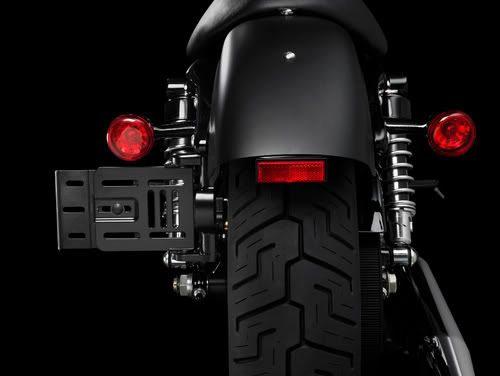 4.I do like the bullet type turn signals on this bike. I love anything that streamlines this bike. Quite nice ain't it? I haven't seen what they have done for the front of the bike in this regard, so I suppose I am going to have to make a trip down to the HD shop and see for myself what's been done there on this bike.



5.I am not a big fan of solid spoke wheels. They have such a dated look to them. Not to mention, you lose the stream line look there. I get such a contradiction of first impressions when I see this bike. On one hand, they seem to want it to remind us of the old time 900cc flat trackers. At the same time though they put on these strange clunky wheels….I mean, yeah on the back…I don't have a problem with adding some weight there…but it just looks way out of place on the front of a Sportster! Sportsters are supposed to have a lean hungry look to them…which is another reason I don't like the big 3 gallon tank I suppose.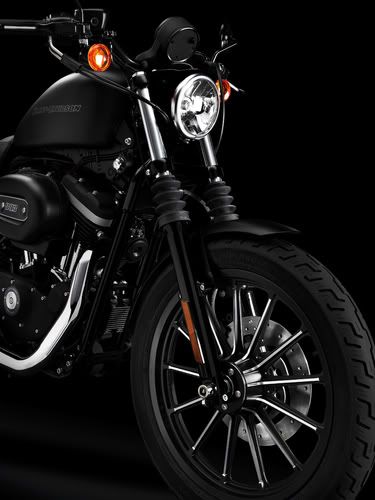 6. The stock seat looks like it's hard, slick and impossible to keep your ass planted firmly in it. Don't you agree? I just get that slip slidey feeling just looking at it. I guess I will have to go sit on this bike…just to see if it performs the way it looks.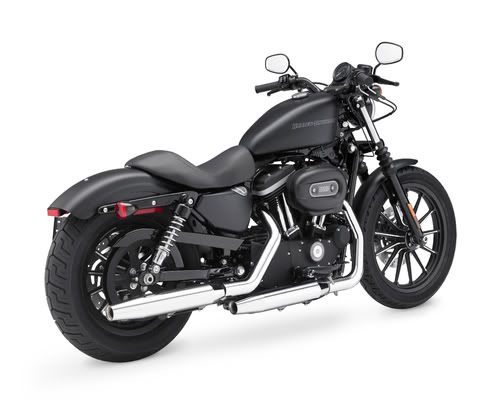 7.I hate the exhaust on this bike. It just doesn't have the Sporty look. You know what I mean? It looks so freakin tame! It really takes away the feeling of adventure, of speed, of danger. It reminds me of bagger pipes. Another contradiction to the looks of this bike.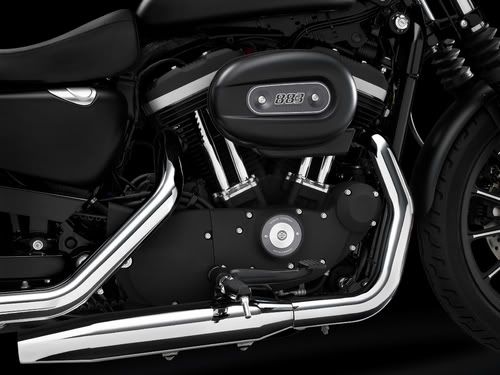 8.The lower legs of this bike…will the black out stay put there? Or…if you live near the beach, or the desert…is that stuff gonna be sand blasted off? I dunno…but I would like to have an answer to that one.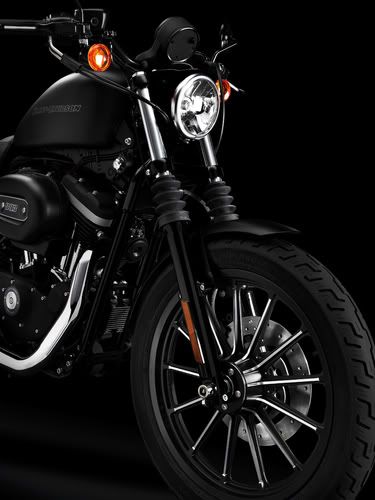 So tell me, do you think I'm nuts? Do you not see what is wrong with this bike? Sportsters should be bikes designed to appear lean and mean. They should not have any clunkiness in their design aspect. They should be streamlined, clean, without shit hanging off the side of them. I just feel as if the designers of this 883 didn't have a clear image of what they wanted to design. They couldn't decide if they wanted to make this bike fast and mean, or if they wanted it to have some of the appearances of a larger V-Twin. I hate that. It's an 883. It has no business trying to be anything other than a Sportster.