As I was cruising around the Net this morning, inputting key search words...You know, I'm always looking for some relevant material to blog about...When I came across this headline from The Chicago Flame.

"As squad cars deteriorate, state police turns to motorcycles"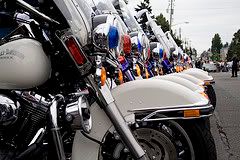 Clicking on the story, I learn the Illinois State Police have designated $550,000.00 in Federal funds to be allocated to the lease of motorcycles. They are figuring they will be able to put about 35 motorcycles on the state highways by the summer of 2009. Illinois State Police officials have stated the motorcycles will be patrolling areas that are known to have high traffic accidents, as well as road rage (aggressive driving) incidents.

I guess that means most of the motorcycles will be in and around the Chicago-land area.



Cuz everywhere I have ever driven, with the exception of Chicago and it's burbs can be looked at as fairly calm and secluded highways. Although, perhaps some of the drivers experience road rage from the miles upon miles of corn fields passing monotonously by their car windows.


Look at this guy...he brings his own heavy weapon of choice with him...Is that a Cruise missile?



It does get old…I went through a section of Illinois last summer, it was in the North West…heading South East…It's corn country people, lots and lots of fricken corn. I decided to get off the Interstate and travel a 2 lane state maintained road, just to see some fricken towns and farmsteads in between the thousands of acres of fricken corn.


Even the farmers seem to be bored with their corn fields.

According to the news story, the great state of Illinois has been experiencing huge budget problems, leading to the State Police purchasing only 99 cars since 2001.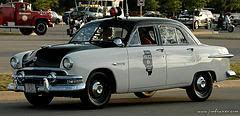 That can only be construed to mean, the majority of Illinois State Trooper cars are worn out by the constant use and abuse sustained by motor vehicles that see daily road time such as police units. The state feels a good use of the Federal Funds is to lease motorcycles, rather than buy them.




Now, the question is: which brand will they go for?