Someone made mention of combining a motorcycle and a Gibson guitar yesterday, and asked for comments, I was on a social networking site. I went on the web, and inputted Les Paul, Motorcycles and the search engine came back with this:

She's a beauty isn't she? In 2002 Gibson honored the new Indian Motorcycle Company with a custom Les Paul-Gibson guitar of their own. The Art and Historic Division of the Gibson Company took a close look at the celebrated and renowned lines of the classic Indian Chief. Taking the Logo that rests on the tin of the old time Indian Chief Motorcycle, the War Bonnet and placed it on the body of the Gibson Guitar. Now we have this beautiful symbolic chrome piece to grab the eyes of the beholder and rivet them on this spectacular guitar.




This special edition of Indian Motorcycle Memorabilia was issued in six custom color combinations, including a red/black metallic scheme reminiscent of the first Chiefs produced in the 1920s.

The Les Paul-Gibson Guitar Company realized this was to be a collector's item, and so in true form of the collector's creed, issued along with the guitar a custom-made lacquered display wall cabinet, leatherette case with chrome hardware, Indian Motorcycle Concho strap, and Certificate of Authenticity.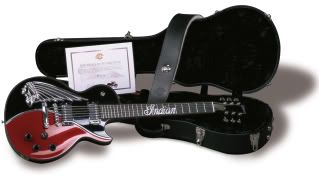 In another effort to enhance the guitar's collectability the company also embedded mother of pearl lettering into the fingerboard, in the same script design as the fabled motorcycle company's copy write name. Now add in the slim chrome molding that swipes through the body, separating the bi-color scheme of the guitar, and you have yourself one heck of a beautiful looking guitar. But…how does she sound?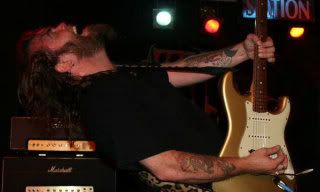 According to a press document I found put out by Gibson: "Kenny Olson, lead guitarist for Kid Rock and aficionado of classic motorcycles, played the new Les Paul Indian guitar on the mtvICON:Aerosmith show and was impressed with its performance. 'It sounded like a seasoned Les Paul, with a fat bottom end and bright, perky highs,' Olson says. 'There's nothing like it, it's a beautiful piece of art. I was glad to be a part of it. I got a lot of phone calls after the show, telling me how cool it looked and how great it sounded.' Well if Kenny likes it….

With only 100 of these Gibson made to order guitars produced, it comes as no surprise to me…nor should it to you. I found one yesterday on Craig's List, in Florida for the ungodly selling price of $4500.00, and this guitar did not come with the original case. It also (I suspect) will not come with the documentation of authenticity… but I don't think that's affecting the price any…how about you?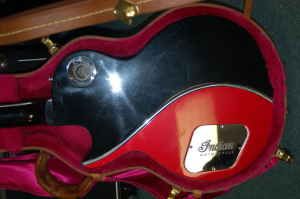 That about does it for today's session, I hope you have enjoyed looking at this piece of history as much as I have enjoyed discovering it for myself!




Now I'll leave you with a YouTube tour guide of a couple of Burt Monroe's famous motorcycles....