View Larger Map

My sister and her squeeze were going riding on Saturday. Somehow they were aware of what is known locally as "Trade Days"....a festival put on by the town of Trade, with Profits from the festival going to improve and expand the Trade Community Center and Park.

Trade is a community with the distinction of being the Easternmost community in the state of Tennessee. I'm a might bit confused because their web site also claims Trade to be the oldest community in Tennessee...I always thought Jonesboro held that distinction...oh wait, maybe Jonesboro is the oldest TOWN in Tennessee? Trade is unincorporated.

Oh hey, you remember the photos I took of Tom Dula's historical marker in Wilkes County NC?....




It seems that Tom Dooley (remember, that's how the folk song memorializes him...guess it rhymed better than Dula...) Oh off track here...but Tom ran to Trade to hide out...he was suspected of killing his fiancee...the posse caught up with him in Trade, dragged him back to face trial in North Carolina, convicted and hung...poor Tom Dooley...hang your head....

Well anyway...Sis, Carter (Sis's Mr.)and I climbed on our bikes...His>>>>a really nice Moto Guzzi...I was charged with getting pictures...but somehow...the bike managed to escape the lens of my camera...me bad....

Sis and her MR. live up Stony Creek off of RT.91...so we pulled out of their driveway heading North on 91 to Shady Valley and RT 421...or the Snake...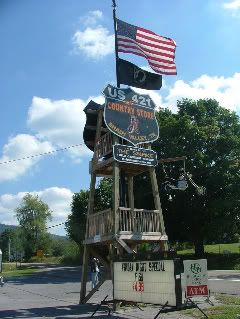 riding the Snake into Mountain City...and beyond...we made our way to Trade...and the Trade Days location.

We rode around the parking lot, settling on a place near the entrance of the lot...not realizing...the entrance to the event was a bit more up the little lane...we could of parked right close to the entrance...with the bikes...ah well, this couch potato needs the walk anyway...but lord...it was hot...in the low 90* and that is hot for this part of the mountains...




Once inside, we found a grist mill....




An actual working mill...you can go inside and watch the mill as it works....
Or you can walk up a slight incline to the place where the Native American Pow Wow is going on...choose a meal from the half dozen or so vendors




...and watch or participate in the show put on by the troupe of Native Americans gathered for the Pow Wow festivities...




Of course there were you regular vendor types selling "native American" souvenirs...flutes...weaves...wood carvings...but I'd seen and done all that stuff before...and so have you...I just left them for others...

After eating, we walked about the venue...saw what there was to see...and climbed back on the bikes...I was hot, I wanted to ride home...it was time to start dinner for Mom and my MR.... I took RT. 67 home...making a loop ride of it, while my sister and her MR. returned the way we came...

Another good day in the dust...and memories are golden... Thanks for inviting me Di...