The Flying Merkel.

all antique pictures are from http://theflyingmerkel.com/ogphotos/
What a strange name for a motorcycle, at least by today's standards. Not so in 1911, when the name became popular because of an innovative front fork design by Joseph Merkel of Milwaukee WI.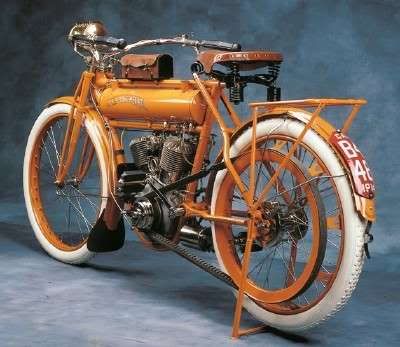 Merkel's first motorcycle was introduced to the pubic in 1902. It was a single cylinder engine, that by 1910 had evolved into a quick moving V-Twin. Merkel must have been an engineering genius, because by the age of 14 he was working as an engineer on a logging railroad. By the age of 15, he was working in the machine shop. This only fed his desire to learn more, it wasn't long before he was enrolled in Engineering at Michigan Agricultural College (now Michigan State University) to study mechanical engineering. After graduation, Merkel took a job with E.P. Allis Co. (later to become Allis-Chalmers Co.) in Milwaukee.

With this practical experience under his belt, Merkel opened his own shop in 1900, building parts for bicycles. He had to have been bored out of his mind. By 1901, he was attaching small engines to the frames of bicycles. It is believed that Merkel built the first trike in the state of WI. way back in 1900. How's that for a piece of history for you trike buffs?

As with many of the builders of his day, Merkel soon found himself attracted to the competition end of building these machines. Racing is and always has been the "Mother of Invention" when it comes to mechanized vehicles, don't you agree?

Merkel began working on the front suspension of these flying machines. He knew with better suspension his bikes and riders would last longer. He developed a patented spring fork system. When you look at this design, it's easy to see it is the grandfather of the telescoping front fork. Everyone has experienced this fork design ....haven't we?

A few other innovations used by Merkel at the time (others were NOT!) is the use of ball bearings instead of bronze bushings in the engine. Another thought of Merkel was to design cam actuated intake valves, rather than the
atmospheric pressure type valves that were popular for the day. Oh, and how about the throttle controlled engine oilier he designed? He was light years ahead of Harley and Indian at the time!
In 1909, Merkel's company merged with the Light Manufacturing Company. They moved the factory, lock stock and barrel to Pottstown PA. They soon began marketing the motorcycle with the nickname Light Merkel.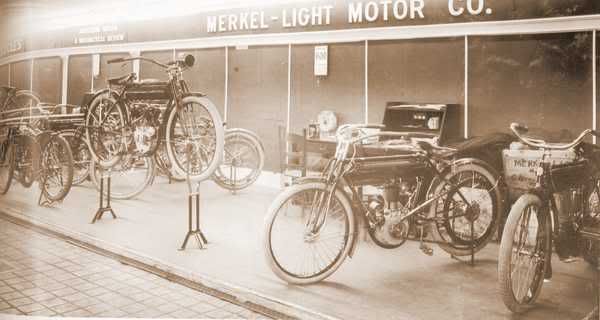 Later to become known as The Flying Merkel. Now with new infusion of money, Merkel was free to experiment on frame, engine and suspension designs. It's thanks to Merkel's experiments we now have such innovations as the mono shock rear suspension.
In 1911,
Miami Cycle Manufacturing Company bought Merkel Light. Merkel stayed with the company until 1914, at which time he sold out his shares of the company. This allowed Merkel to
design and patent the Merkel Motor Wheel.
For the Miami Cycle Company, the Merkel line-up rounded out their motorcycle and bicycle line by providing them with a high end product they lacked prior to the acquisition. The Flying Merkel continued on without Merkel at the helm until just before the onset of World War I. After the war, Miami Cycle Mfg., like dozens of other American manufacturers, did not return to the motorcycle business. The Flying Merkel was relegated to the history books.

1917 saw the end of THE FLYING MERKELS.