For all of you lovers of antique motorcycles...WOW...check out these pages!
Just some too cool for school. Be sure to enlarge the pictures of the engine!
Man, I am in luv...again.
Now...click on the link down below...and explore the wonderful web site...man, I could make good fodder of this place!

This bike is known as The Velocette.
Too cool for school as my kid tells me...

In 1905, a German by the name of Johannes Gütgemann and a buddy by the name of William Gue start up a company in Great Britain known as: "Taylor, Gue Ltd."
Actually, by the time Gütgemann opened the doors, he had agnlized his name to John Taylor, he later formally changed his name to Goodman.

The first motorcycle by "Taylor, Gue Ltd." was the Veloce. Later in 1905, Taylor split the company to include a vein known as Veloce Ltd, which initially produced four-stroke motorcycles. It wasn't until 1913 that they produced their first two stroke called a Velocette. This name was used for all subsequent models. In 1916, John's two boys, Percy and Eugene Goodman joined the company.

The Two Strokes...
Veloce became specialized in the two stroke engine between the years 1913 to 1925. Remaining focused on the two stroke 250cc engine, allowed them to put out expensive high quality motorbikes. They garnered excellent reputations in the scrambling world during this time, entering into such competitions as the Isle of Man TT, coming home with noticeable success in these field trials. With such advanced features of their single cylinder engines, such as a throttle controlled oil pump, it's not hard to understand how they could ask the prices they did for their machines, especially since they were winning at such trials as The Isle of Man!

Through the 1920's to the 1930's, the company went through many variations, with an active R & D department: 2speed gearboxes, 3 speed...until in 1930 they came out with the GTP model. Many say the GTP was a reliable lightweight motorcycle whose power delivery rated very good overall.

Also during this time, Veloce was working hard to grow as a company. They did this by investing heavily into R & D. They soon developed what is known as the "k" series. This was the overhead camshaft, which they built into a 350cc engine. By 1925, Veloce released this engine, and while it had it's troubles (as most new designs do) once the bugs were worked out of it, (by year's end) it too was picked up by the racing community with the KTT model. Its reliability and excellent running qualities helped make it a favorite among such field events as Brooklands Races and again the Isle of Man TT race.
The company continued to produce OHC engines for their Roadsters until 1948.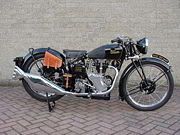 The Velocette continued to produce motorcycles into the early '70's...there is a long and elite history regarding this motorcycle...do yourself a favor and check it out...

You know, Great Briton really did a lot to advance the art of the motorcycle...it don't hurt us to learn more about these great motorcycle companies!

Yesterdays